This evening, we're bringing you the latest update to Smartr365, with new enhancements and improvements. Find out more below and make sure to clear your cache and refresh your system so you can use the new features.
Add releasenotes@smartr365.com to your address book to make sure you catch all the new updates.

Performance Enhancements 
A new field has been added, labelled 'submission to lender date', which captures the date to submission is made to the lender. This also appears as a compliance token when downloaded as a PDF file.
Within the report extension, the written mortgage report now returns more fields for information which can be used for audits. The fields include 'sub-type', 'buy to let', 'completion date', 'status', 'property address', 'account number', and more.
When adding a new lead, users are now presented with a new multi-page dialogue. Once a new lead is added, users can directly invite them to complete Fact Find, and enable or disable Digidentity while seeing how many Digidentity credits are remaining.
Once the new lead has been invited to Fact Find, users can set up a follow update and track the case.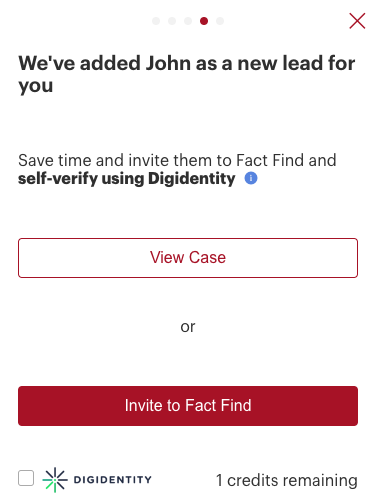 Invite to Fact Find info has now been updated on the summary page. If a case has been invited to Fact Find, this is now displayed on the summary page providing details on the time frame since invited to Fact Find.
Bug Fixes
The critical buildings and content policy should now display correctly.